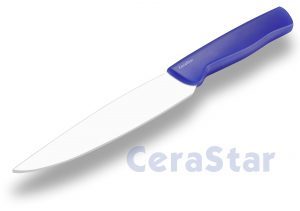 All CeraStar Ceramic knives are:
outstanding sharpness
extremely hard and tough
hygienic
geschmacks- und geruchsneutral
for daily use
odourless
nutrition friendly
dermatologically approved
antimagnetic
extremely light
corrosion free
The CeraStar Ceramic Knife is an innovative modern high-tech product. Originally the ceramic material used for the knife blade, matured in the research of the aerospace technology and shows a significant hardness. High-tech methods during the manufacturing process allow the knife to achieve it's extreme sharpness.
The creative design of CeraStar Knives has recently been awarded a wordwilde patent. The knife handle is opaque and made out of high value plastic (available in different colours) while the ceramic blade comes in white only.